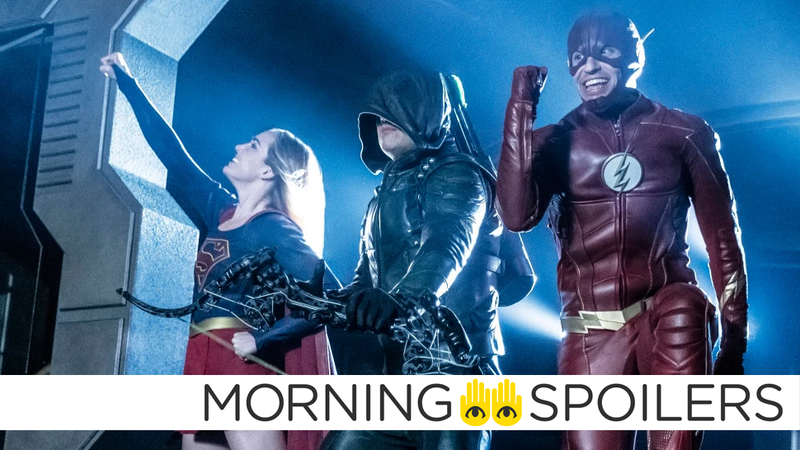 Could The Suicide Squad be close to finding its villain? The upcoming animated Scooby Doo movie's cast continues to get weirder. A new Terminator trailer is coming soon. Plus, bad news for The Passage, Arrow's showrunner teases Felicity's exit, and another clip from Spider-Man: Far From Home. Spoilers, away!
Gunpowder Milkshake
THR reports Michelle Yeoh will join Karen Gillan, Lena Headey and Angela Bassett in the cast of the upcoming assassin thriller, Gunpowder Milkshake.
---
Scoob
THR also has word Jason Isaacs and Mark Wahlberg have joined the cast of the upcoming animated Scooby-Doo movie as the voices of Dick Dastardly and Blue Falcon, respectively.
---
The Invisible Man
Meanwhile, Deadline reports A Wrinkle in Time's Storm Reid has joined the cast of The Invisible Man as "an outgoing lover of fashion who aspires to see the world" named Sydney. According to the outlet, the new take on the story "follows Cecilia (Elisabeth Moss), who receives the news of her abusive ex-boyfriend's suicide. She begins to re-build her life for the better, but her sense of reality is put into question when she begins to suspect her deceased lover is not actually dead."
---
The Suicide Squad
Geeks WorldWide also reports Benicio Del Toro is currently "being eyed" to play one of The Suicide Squad's main villains, an "irascible old warrior who lives for war" codenamed The Mayor.
---
Zombieland 2: Double Tap
Zombieland 2 has been pushed back one week, and will now hit theaters this October 18. [Bloody-Disgusting]
---
Charlie's Angels
Coming Soon has the official logo for the new Charlie's Angels.
Jumanji 3
Filming has wrapped on Jumanji 3, according to Dwayne Johnson on Instagram.
---
Terminator: Dark Fate
A new image of Linda Hamilton with an accompanying message from Tim Miller himself promises a trailer is forthcoming.
---
Godzilla: King of the Monsters
IMAX is the latest theater chain to enjoy its own Godzilla: King of the Monsters poster.
["source=gizmodo"]