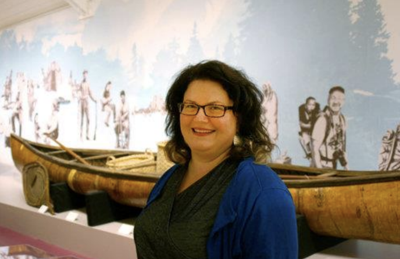 The Illinois Department of Natural Resources has selected Cinnamon Catlin-Legutko as the new director of the Illinois State Museum.
Karen Everingham, acting assistant director at Illinois State Museum, said Catlin-Legutko brings more than 20 years of experience in helping museums succeed and is looking forward to implementing her vision in her newest position.
Everingham said Catlin-Legutko will help the museum spruce up some exhibits that need help, add enhanced programming and after-hours programs and work on a new strategic plan.
"We're going to try to reach out to the community more and get more involved with the community, expanding digital access to our collections," Everingham said.
Catlin-Legutko most recently served as CEO of the Abbe Museum in Bar Harbor, Maine, according to a news release. She also played a key role with the General Lew Wallace Study and Museum, helping that museum get recognition from the White House.
Everingham said Catlin-Legutko has had success in bringing financial stability and great partnerships with communities, particularly Native Americans, which is viewed as important because the museum has significant holdings in that area.
"She's very active in the museum community," Everingham said. "She serves on the American Alliance of Museums Board. She's kind of a rising star in the museum field, so she's going to bring a lot to the state museum."
Everingham said the museum is now looking at hiring a marketing person to work on social media, news releases and communications in general.
"That's going to be a big part of spreading the message and making people aware of what we have here," Everingham said.
Everingham said that Catlin-Legutko is joining a museum that has a dedicated staff and long legacy.
"We're approaching our 150th anniversary, so we're very much aware of our history and our legacy and we're proud of it," Everingham said. "We've worked very hard since being closed to regain our accreditation from the American Alliance of Museums. We just have a lot of dedicated people that are honored and proud to be a part of this state museum."
["source=thecentersquare"]